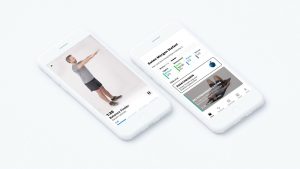 One in five men between the ages of 30 and 80 suffers from erectile dysfunction. Instead of drugs, applications could help: This is the first "digital medical application" (DiGA) in urology and can be prescribed as a certified medical product. Unlike the cost of "potency pills", which men usually pay for themselves, the cost of application is covered by health insurance companies.
In an extensive study, researchers at the Westfälische Wilhelms-Universität (WWU) in Münster are investigating whether "digital Viagra" will bring the desired success. For this purpose, subjects older than 18 years with erectile dysfunction are sought. "The study is designed according to the best standards of evidence-based medicine," explains prof. Sabine Kliesch. He conducts research at the Center for Reproductive Medicine and Andrology (CeRA). A total of about 200 men with a medically confirmed diagnosis of "erectile dysfunction" will take part in the study. Subjects are randomly divided into two groups to complete application training at different times. The first group starts the 12-week therapy immediately, the second after the waiting period.
Training begins with risk factors for the disease: Whoever smokes, moves little and eats unhealthily, increases the risk of developing or worsening erectile dysfunction. Risk factors should be reduced by endurance training, pelvic floor exercises and mental strategies for mindfulness and body awareness. The exercises are tailored to the health of men: those who suffer from high blood pressure or are overweight should start with a relaxed run rather than intense endurance training. In addition, users of the application are provided with brief basic information about the development and treatment of their diseases. Possible "side effect" of the application: a healthier lifestyle in the long run.
Whether the concept works and whether the application improves the quality of life and symptoms of erectile dysfunction, the WWU Münster study uses questionnaires. If you want to participate, you must be motivated to use the application for twelve weeks and perform the described exercises regularly. Participants must also have access to a tablet or smartphone with internet access. Anyone over the age of 18 can contact the application provider (phone: 089-38038658, e-mail: studie@kranus.de).
"Each individual participant makes a significant contribution to the research of new digital treatment methods and at the same time can do something for their health," says prof. Kliesch, who works as a chief physician at the Department of Clinical and Surgical Andrology, University Hospital. in Münster. The pilot study of the prescription application was promising: the erectile dysfunction of the participants decreased during the training program through the application and the quality of life improved. For the study, which is now beginning, data will be collected for three months. The results will be published no later than one year after the end of the collection and could change the treatment of erectile dysfunction in the long term.
similar posts